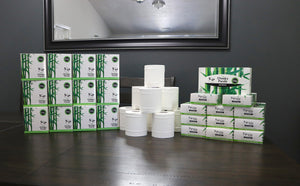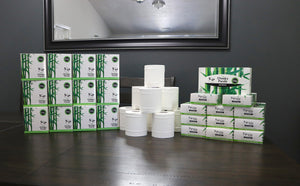 November Edition 2022 Recap
The Grocer New Product Award:

WINNER!
We have big news! Our bamboo cleansing facial wipes have been announced as the winner at The Grocer New Product Awards 2022.
We are thrilled that these wonderful wipes have been recognised as a 'tick every box' beauty product! The judges said:
"The sustainable aspects of the offering are clearly its big selling point, but the actual product delivery isn't compromised by this... [the wipes are] really effective at gently cleansing away make-up, have a lovely coconut aroma and were a great size too, leaving skin feeling clean and refreshed"
Good Housekeeping Best Eco Toilet Roll 2022:

WINNER!
That's right, we won again! We topped the charts to be awarded the Best Eco Toilet Roll 2022. Our toilet roll is FSC 100%, The Vegan Society Certified and comes in plastic free packaging.
To read more and to hear from Good Housekeeping on why we were crowned the winner, click here!
In honor of World Toilet Day this year, The Cheeky Panda teamed up with Toilet Twinning to raise awareness for the critical issue of global sanitation. Did you know that approximately 1.7 billion people do not have access to safe and reliable toilet facilities? In an effort to support Toilet Twinning and their efforts to address this pressing issue, we will be donating £1 for every pack of 24 rolls purchased and £2 for every pack of 48 rolls purchased. We encourage you to join us in supporting this vital cause."
Food Bank Donation with
Ethical Superstore
The ongoing cost-of-living crisis and rising energy costs have made it difficult for many individuals and families. As we move further into the winter season, the challenges faced by many individuals and families are expected to increase. That is why our company is committed to supporting those in need through a donation to the Ethical Superstores Food Bank Campaign for the Newcastle West End Food Bank. Click here for more information about this initiative and the other brands participating.
Our
Top Reads

for November