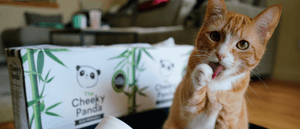 September Edition 2022 Recap
The Cheeky Panda appoints

Simon Weavers

as International Sales Director
We are very pleased to let you know we have welcomed Simon Weavers to The Cheeky Panda taking on the role of International Sales Director.

Simon has a wealth of experience working with international customers and overseas markets, most recently as Commercial Director at sustainable laundry and cleaning brand Ecoegg Ltd. Simon worked at Ecoegg for over 7 years helping the brand export products to over 40 countries.
We are excited to have Simon join the growing Cheeky Panda team.
Welcome to PandaHQ, Simon!
You can now find our straws on
Alliance Online
The Cheeky Panda 100% Bamboo 200mm standard straw and 140mm sip straw are now available to order through Alliance Online. Our straws are FSC 100% certified and biodegradable - the perfect alternative to plastic.
Earlier this month we celebrated World Bamboo Day. At PandaHQ we celebrate bamboo every day, but on this day, we like to remind you why we think bamboo is so great:
Bamboo grows 30x faster than trees, produces 30% more oxygen and absorbs 35% more carbon
Bamboo is a grass meaning it can grow with no human interference, need for fertilisers or pesticides
These are only a few reasons as to why bamboo is so great, and maybe the most important reason is that it makes super soft, sustainable and strong toilet roll (and don't worry, we still don't use the type of bamboo that Panda's like to eat).
Our
Top Reads

for September