Our Love Story
Did you know The Cheeky Panda is a product of love and a passion for the planet? Well, now you do. Our co-founders, Julie and Chris, met in 2015 on a popular dating app (and no, it wasn't Tinder), immediately connecting through their passion for sustainability and eco-friendly living.
Fast forward a few years and their beautiful baby Leo was born, along with The Cheeky Panda, a brand centred around the purpose of making it possible for people to care for themselves and loved ones, without compromising their care for the planet.
ROMANTIC GETAWAY, FANTASTIC GIVEAWAY!
As well as being economical, we are championing less waste this year. No cuddly toys to give away (snuggle up to your partner instead!). No scented candles (light your own flames of passion!). Items like this are used and then gone. Instead, we are offering an experience, a memory that will last a lifetime. Now that's sustainable!
This February, we are giving you a chance to win a SPA BREAK (voucher worth £200) to help us spread the love. Only successful referrals will be entered, terms and conditions apply.
To be in a chance to win, we have 3 options for you to choose: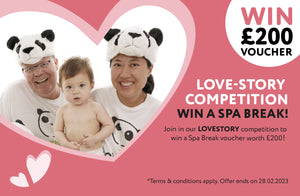 or,

alternatively copy and paste the following

I scratch your back, someone else massages mine! 😂

As part of The Cheeky Panda's Love Story Giveaway, I'd like to give you £5 off your first order with them, and in return of your first purchase, I get entered into a competition for a £200 SPA BREAK voucher

Use the following link to visit the site and be presented with your discount code:
⚠️ Please make sure you are logged in to reveal your link!!
You too can enter at: https://uk.cheekypanda.com/lovestory and share the LOVE ❤️. Good Luck!
1. Click to copy text
2. Then paste via social channels below
Remember for every successful referral, you get 500 Panda Points worth £5 too!
Your successful referral will be logged in The Cheeky Pandas loyalty program and then you'll be entered into our prize draw. Best of luck.
By entering the competition, you are agreeing to the below Terms and Conditions:
The competition is open to entrants over 18 living in the UK.
There will be one (1) winner.
Prize package includes one (1) e-voucher for the value of £200 from https://www.spabreaks.com/. Terms and conditions on how to use the voucher can be found from spabreaks.com.
Only 'successful referrals' will be entered into the competition. 'Successful referrals' means the person you refer has made a purchase of £15 (excluding shipping) or above after applying their £5 discount code from uk.cheekypanda.com by the 28th February 2023. You can refer as many friends as you like, and each successful referral counts as an additional entry.
Competition entries only count for the individual who makes the successful referral. The person who receives the referral discount will not be entered into the competition.
Free shipping is eligible for orders above £20. £5 referral discount or Panda Points cannot be applied to the shipping costs.
Referral discount cannot be used with any other discounts code or panda points nor used on sale items.
The prize cannot be amended or cancelled; prize is non-refundable and non-transferable; No cash alternative is available.
Competition entries will close on the 28th February 2023.
The winner will be randomly drawn from the entrants during the week commencing 6th
The winner will be contacted by the 30th March via email.
By entering the competition, you agree to receive further updates about this competition and other marketing materials from The Cheeky Panda by email.
Our referral and loyalty programme is supported by LoyaltyLion Ltd. LoyaltyLion Ltd. is referred to as a Data Processor within the GDPR legislation. For further information please refer to: GDPR & LoyaltyLion | LoyaltyLion Help Centre